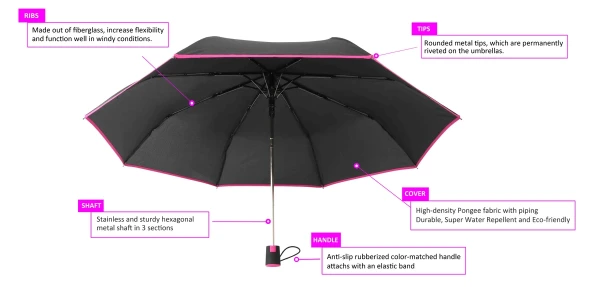 Quality Construction
Our umbrellas are hand-assembled by 250+ individual parts. Sleek, durable and affordable.
View Detail
What Products Do We Offer?
Our category includes compact pocket-sized umbrellas, ultralight travel umbrellas, stylish full-sized umbrellas, promotional extra-large golf umbrellas.
Customize Umbrellas Your Way
Worldwide Delivery

Fast Shipping to over 200+ countries, Package Location Tracking Online.

Safe Payment

Secure Payment VIA Paypal, Don't keep any cards information.

Buyer Protection

7-day Satisfaction Guarantee, Full Refund if dont receive orders.

Order Service

1-day handling time, 24/7 Customer Service Online
[email protected]

+86 158 8028 7263
24/7 All Time-Zone Accessible

Stone Industrial Zone,

Hongtang Town,

Tong'an District,

Xiamen City,

Fujian Province,China



FAQS
Top 5 most frequently asked questions from our prospects.
01. Are you a factory or a trading company?
We're a BSCI audited umbrella manufacturer with 12 years of experience in developing, producing and exporting umbrellas. Also, we're the umbrella vendor behind some international retailers, including Walmart, Lulu Group, 7-11, Metro, and so on.
02. What's your Minimum Order Quantity?
We have no quantity limits for regular items/RTS (ready to ship) items. If you're going to customize designs/colors, please specify your requirements. Our team will review your needs properly and work out the best solution for your projects. FYI, our MOQ for new production orders could be 600/1,500/3,000 pcs depends on your specific requirements.
03. What's the difference between 170T & 190T fabric?
Generally speaking, 170T and 190T are the sums of the number of yarns per square inch of warp and weft, which is the density of the fabric, and "T" is the number of yarns per unit area of the fabric: the larger the number it is, the more yarns there are in the unit area.
04. What's your lead time?
a. RTS items/Stocklots: Within 2 days upon confirmed the advance payment.
b. Regular Items (ready materials): 25-30 days.
c. Customized New Orders: Around 45-60 days.
We, as a customer-oriented company, are always open-minded in discussing everything with our clients and prospects. If our time-frame can not meet your deadline, please reach out to our sales team with your request.
05. How about your quality warranty?
Each umbrella will be fully inspected before delivery. We guarantee that the products you order from us will be free of defects. In the rare instances that some of our products arrive and are defective, and you notify us within 20 working days, we will credit or replace any problem merchandise as per your request.